Jeudi 21 avril, le webinaire cours de musique pour le cinéma dirigé par Massimo privé Et Marco Testoni pour Cineartemusica.
Le cours de webinaire sur la musique de film est une école en ligne d'arts cinématographiques et multimédias. Vendredi 8 avril à partir de 18h00 il y aura un Journée portes ouvertes avec les professeurs pour des informations générales sur l'enseignement, les méthodes et les conditions du cours. Pour réserver la réunion, contactez l'e-mail de segreteria@cineartemusica.it.
Le contenu du cours de webinaire
Comment est réalisée la bande originale d'un film ? Partant de l'évolution historique de la musique pour images, Marco Testoni et Massimo Privitera nous montrent les différentes phases créatives et opérationnelles de la production de la bande sonore d'un film. Un cours qui, à travers des vidéos et des conférences en streaming, examine et analyse l'évolution moderne de la musique de cinéma par rapport aux nouvelles méthodologies artistiques et professionnelles. Un parcours pédagogique avec une double piste de formation. D'une part, il fournit les outils pour analyser les aspects esthétiques et historiques d'un commentaire musical, d'autre part les moyens d'apprendre les méthodes et les techniques avec lesquelles une bande sonore est aujourd'hui créée et produite.
Le programme pédagogique consiste en une partie préparatoire où l'histoire de la musique de film est examinée – du muet au numérique. Une deuxième partie, plus technique, où sont suivies les trois phases typiques de la réalisation et de la création d'une bande son : la pré-productionla production et le post-production.
A la fin du cours, les étudiants, afin de mettre en pratique les compétences acquises, créeront une bande son – originale ou avec des morceaux de répertoire – sur une séquence de film préexistante.
Informations générales, réservations et contacts :
www.cineartemusica.it
segreteria@cineartemusica.it
Biographie des professeurs
Marco Testoni
Marco Testoni il est compositeur, superviseur musical, consultant musical dans le domaine de la musique pour le cinéma, les séries télévisées et la publicité. Sa filmographie compte plus de 60 titres dont : De parfaits inconnus, faites de beaux rêves, ils l'appelaient Jeeg Robot, le premier roietc….
Il a réalisé de nombreux projets musicaux en collaboration avec des artistes de différents domaines créatifs (arts visuels, photographie, art vidéo). En 2014, il remporte le Soundtrack Award avec la chanson je crois je pense j'espèrejoué par Antonella Ruggiero dans le film BlackOut. En 2015, il a été nommé Compositeur de l'année au Rome Videoclip Award.
En tant que professeur en 2014, il a dirigé le premier cours en Italie de superviseur musical parrainé par la région du Latium. Ses performances multimédias et musicales ont été présentées au Louvre à Paris et au Macro à Rome. Il a également animé de nombreux ateliers, masters et conférences à :
IULM Université de Milan,
École de musique de l'Université de Cardiff,
Griffith Academy of Cinema and TV à Rome,
Institut SAE de Milan
Pour Audino Editore, il a publié les livres : Musique et médias visuels (2016) et Musique et multimédia (2019). Depuis 2019, il dirige Soundtrack City, la web tv des bandes sonores. www.marcotestoni.com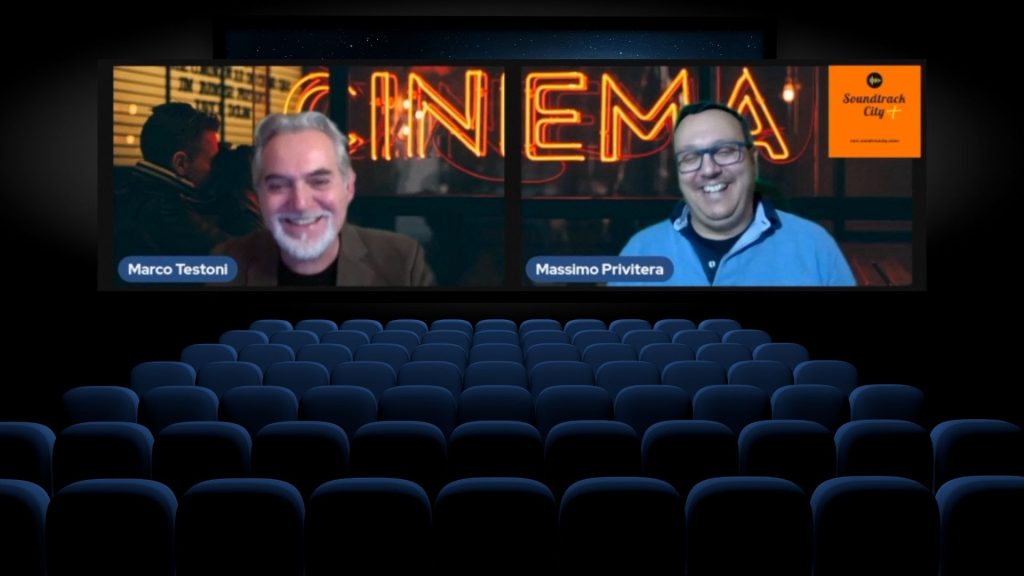 Massimo privé
Massimo privé il est réalisateur et créateur du magazine web sur la musique de film www.colonnesonore.net. Diplômé en réalisation au Laboratoire de cinéma de Rome. Il travaille comme promoteur, copyright et éditeur depuis les années 90 pour Mediaset. Il s'est d'abord occupé de la promotion des programmes pour 4 chaînes thématiques diffusées sur Sky, puis pour Canale 5 et Mediaset Premium.
Réalisateur de courts métrages et programmes télévisés; auteur et assistant réalisateur pour diverses productions Mediaset et Rai TV. Grand collectionneur de bandes sonores (sa collection compte plus de 20 000 titres) et expert en musique de film.
En 2003, il fonde le magazine papier "Colonne Sonore – Images entre les notes", le premier et le seul en Italie à parler de la musique par l'image. A l'occasion du Prix des lecteurs du webmagazine « Colonne Sonore » qu'il a créé il y a plusieurs années, il a récompensé et interviewé de grands noms et des oscarisés dans la catégorie ciné-musical en exclusivité. De John Williams à Ennio Morricone ; de Howard Shore à Alexandre Desplat, et bien d'autres.
En 2016, avec Federico Biella, il est l'auteur du livre : Quand ils chantaient le Colt – Encyclopédie ciné-musicale du western italien (Edizioni Casa Musicale Eco di Monza). En collaboration avec le critique Roberto Pugliese, il écrit "Sound Ciak – Film Music of the 80s: Timeless Cult Cine-Musicals", une version ebook pour le magazine culturel Masedomani.com.
En 2021, il écrit le livre Games of Scores – The best TV soundtracks of the 2000s (Edizioni Bietti Fotogrammi 2021). Il écrit des critiques de bandes sonores pour AudioReview et des articles sur la musique de films et de feuilletons pour Billboard Italia. Intervenant lors de conférences sur le thème de la ciné-musique au Spazio Wow – Museo del Comics de Milan et à laVerdi de Milan. Ainsi qu'au CSC Lab Musica per Film du Centre expérimental de cinématographie de Rome.